Become a Friend of the Fort and help the museum preserve Australia's past.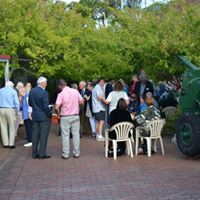 As a Friend of the Fort Queenscliff Heritage Association, you will be a member of a unique group – supporting Fort Queenscliff, the only coastal fortress in Victoria – and knowing that you are sharing the care and responsibility for maintaining an integral part of Australia's military history.  
New members are entitled to:
. A complimentary pass for your family to enjoy an entertaining tour of Fort Queenscliff;
. Free entry to the Museum;
. Regular "Friends of the Fort" newsletters;
. Opportunities to attend the AGMs and other exclusive members' functions organised by the Committee.
Alternatively you can fill out a Friends of the Fort Application Form (–>) and send it to address on the form to support the work of the Fort Queenscliff Heritage Association.