The Fort Library/Research centre has an extensive range of military publications, particularly those relating to operation of the Fort over its long 140 year history as a Coastal Artillery Station and Army Staff College.  
A small team of researchers can assist with enquiries relating to the historical activities at the Fort and the soldiers who served at the Fort.
Typically enquiries relate to personnel service records of family members or descendents, questions related to artillery, the history of the fort because of relations involvement, military questions related to the Geelong and Bellarine area, library related questions, photographs and people doing their own research looking for additional supporting information often for a publication.  
Information sources used include an internal research database of event and personnel details related to the Fort and a number of key websites including the Australian War Memorial, National Archives of Australia, Trove, the Defence Force, State Library of Victoria, WW1 & WW2 Nominal Roles, Red Cross Missing and Wounded Files, Discovering Anzacs, OZ-Boer War database (pre-federation resources), Ryerson Index (death notices, oblituaries) … just to mention a few.  
The aim of the Library/Research team is to conserve and preserve existing collection items as well as record and store information about the collection to meet future research needs.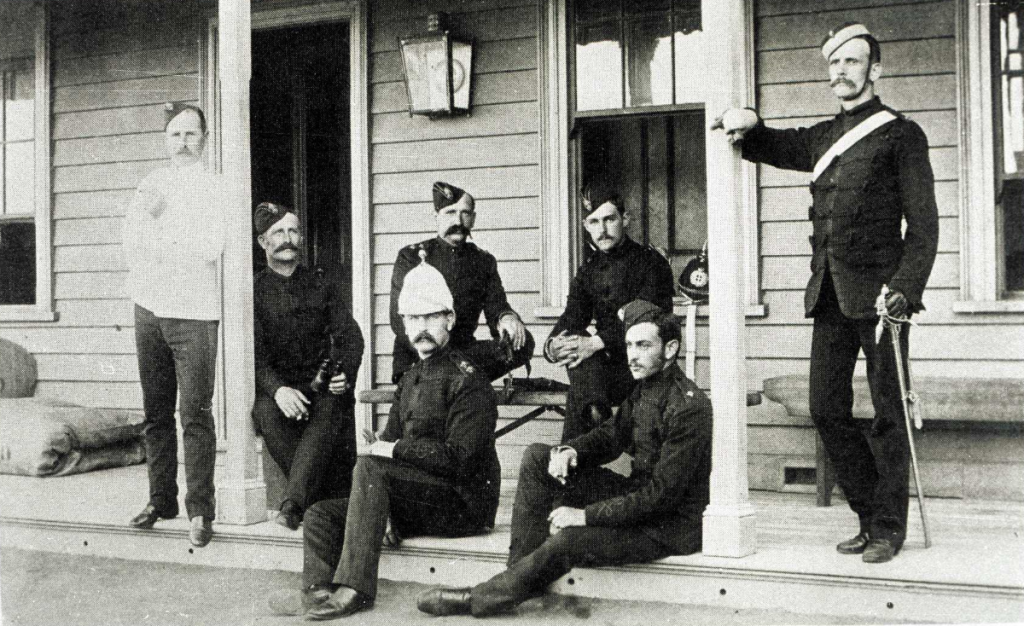 Group of Artillery Officers at Fort Queenscliff Guardhouse (circa 1889):
 Lt (later Lt Col) Charles Umphelby 1853 – 1900 ……………. On the left – Standing                                           
 Lt (later General Sir) John Monash 1865 – 1931 …………. Sitting on veranda edge – Second from left      
Capt (later Major General) John Stanley 1851 – 1935  ….. Sitting on veranda – In rear second left