(1) 1860s Guns at Shortlands Bluff
Cropped image from the Fred Kruger collection titled "Shortland Bluff and lighthouse, Queenscliff (c 1866-1887)" The exact date of the photo is not known but it was taken prior to the building of the Fort walls which commenced in 1882.
The three 68-pounder Muzzle Loading Smooth Bore guns seen here on the cliff top in front of the black lighthouse were part of the initial fortification on Shortland's Bluff completed in 1863.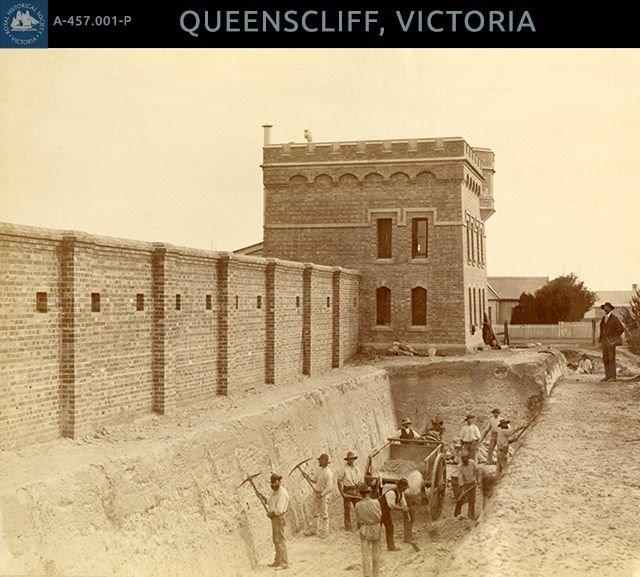 (2) 1885 Digging Queenscliff Fort Gorge
Construction of the Fort Queenscliff gorge in 1885.  This gorge formed part of the Fort's landward defences along with the Fort walls and the Keep (large corner structure shown here).
The Keep was the Fort's last line of defence and in colonial times it acted as the command post for all the Fort's landward defences.  During emergencies it was permanently manned by a Sergeant and six soldiers in case of a surprise attack on the Fort.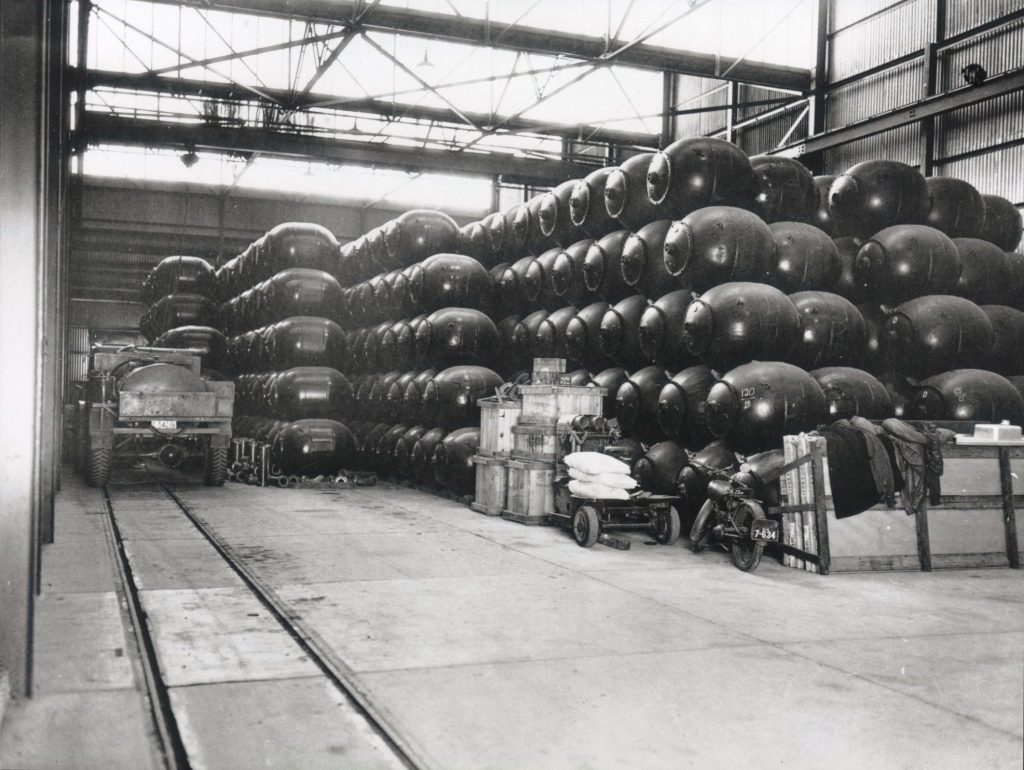 (3) Mines Stored at Swan Island Fort
Swan Island Fort, located 3km north-east of Queenscliff, is a rare example in Australia of a fort designed to contain the facilities for laying, preparing, storing and transporting submarine mines.   
The Fort was established as part of the Port Phillip Bay defence scheme in 1879 as an artillery battery and naval mining depot.  From 1920 to 1960 it was the Permanent Mines Depot for the Royal Australian Navy.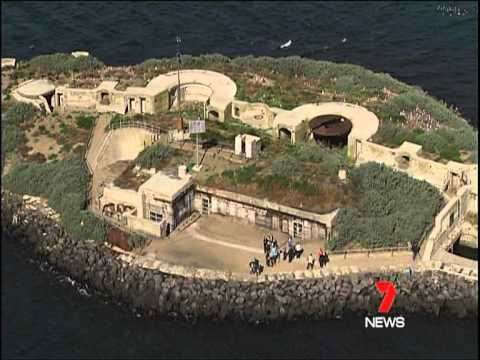 South Channel Fort is a 0.7 ha artificial island out in the Bay 6 km north-east of the town of Sorrento.  It was completed in 1888 as part of the 1879 Port Phillip defence scheme.  
It was an artillery battery, you can see the semi-circular gun emplacements, which had searchlights to monitor night shipping and the ability to explode electrically controlled mines laid nearby in the South Channel.
(5) Location of Forts in Port Phillip
These were the Forts that existed in Port Phillip at the end of the 19th Century.   
Fort Queenscliff and Fort Nepean protected the Heads,
Fort Franklin and the South Channel Fort protected the South Shipping Channel,
Swan Island Fort protected the Western Shipping Channel and
Fort Pearce and Eagles Nest could shell any invading force in Bass Strait.